The other day, I got an email that touched my heart. It was from a man named Rusty, who told me the story of his draft horse Duke.
The love that he carries for his horse was so evident. His story made me think of my own love story with my horse Gemini. And from there I got thinking about all of our stories.
How is that we find our first horse love?
What kind of place do they settle into in our heart?
How do we connect with them? What makes us fall for them so hard?
How do we make decisions about them and stay by their side in the long run?
Do you have a story like this? I bet you do. I think every horse person has a story of the first horse that really touched them to their core. You never lose that story.
Today, I'm going to share Rusty's story. Next time, I'm going to share the story of my first real horse love, Gemini — because I realize that I've never really shared that story with you.
This is the brief introduction to Rusty's story. I got this story in an email a few weeks ago, and it just made me smile (okay, I was on the verge of tears).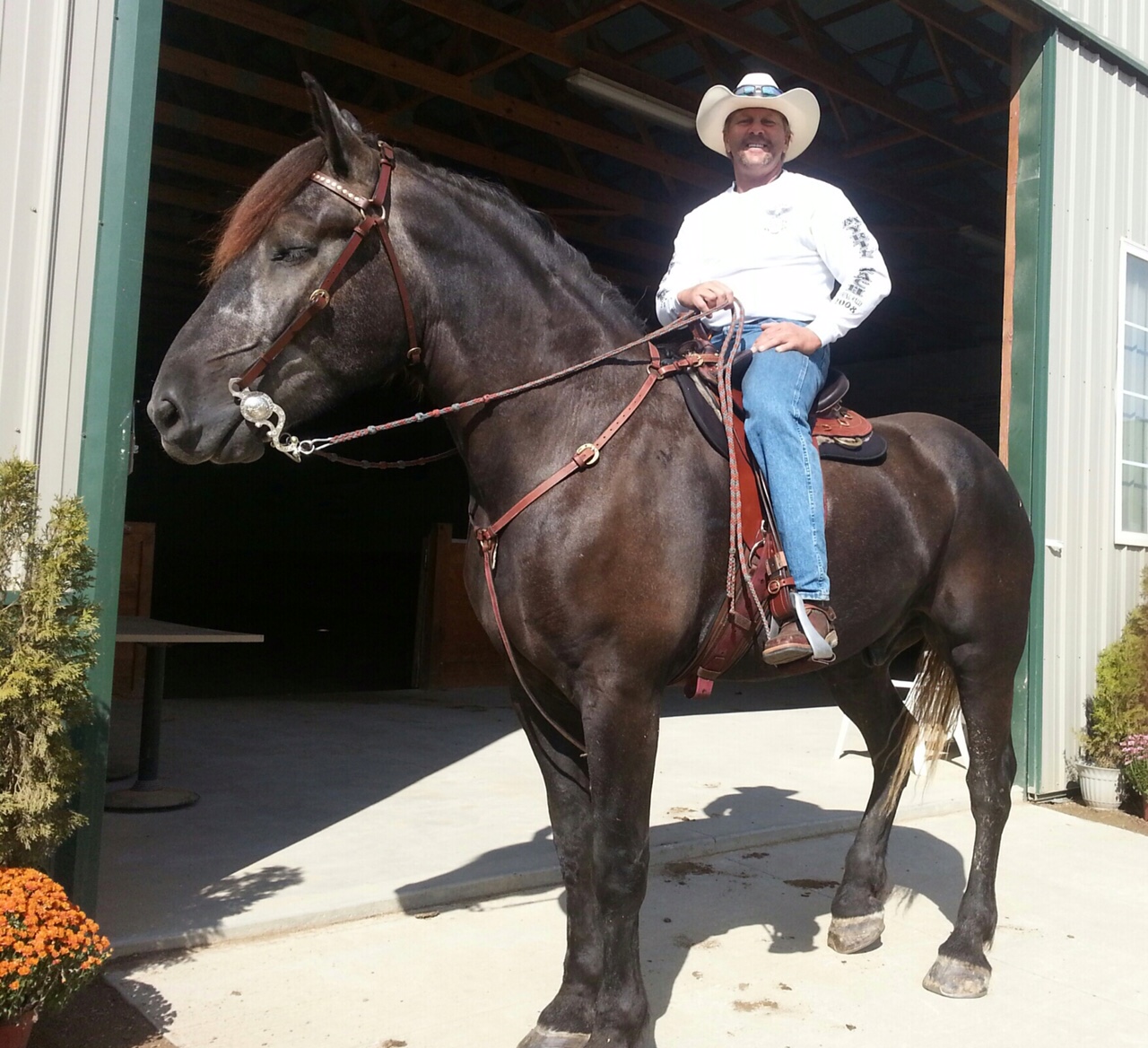 When looking over horses at an Amish farm, I did not pick Big Duke — he picked me. He was about 18 months old and greeted me like a Great Dane puppy who did not have full control of his large puppy feet yet.

I returned a week later to look at him again and get a lesson from the Amish on how to teach him to drive. He was tied short in the stall to teach him patience, and to stand still. This seemed odd to me at the time, but he was patient for me, and would stand still for as long as it took to harness him.

I guess as my 1st horse I did have a bad case of "puppy love". I purchased him, but kept him at there farm for a month, and returned daily to work with him in wide open spaces where we could both get to know each other and be safe doing it. He is 8 now, and is as much a part of me as I am of him.

I think it is a bit like your 1st dog as a child. Whatever breed your parents brought home, that ends up being your favorite for life. Big Duke is my only horse and could not imagine owning another.
When I asked Rusty if I could share his story, he agreed and sent me back more details. Here's the long version of his story, which is just as touching.
After a month of training at the Amish farm, I showed up to bring Big Duke home. Without hesitation, he loaded right up in the trailer. This did not seem strange at the time, but would later.

It was 2008, and the housing market was in a free fall and the economy was tanking. Good paying jobs were not available. I lost my home, and was living at a motel.

My hope was to start a horse & carriage business and weather the financial storm.

I had never owned a horse, and I did not own a horse trailer, so I borrowed one to bring Duke home. The farm I kept him at was 5 miles from the downtown area we were going to operate in.

Each afternoon I would saddle him and ride him to the downtown area where the carriage was stored. Then I would hitch him up and give historical tours of downtown until around midnight.  Then I would saddle him up and ride the 5 miles back to the farm.  This all started in December during the local Christmas parade, in very cold conditions.

This routine continued 4 days a week for about a 2 years. At the time I did not know how many miles I could cover each day with such a young horse, even though he was already 16.5 hands at this age. Could he handle 10 miles a day under saddle and another 10 miles hooked to a carriage?

As a new horseman, I loved and cared for my horse more than I can explain in words. I relied on Big Duke to tell me if we needed to stop and rest. We learned so much about each other in that year. Both trust and respect that just can't be quantified in words. So many nights in the snow and very cold conditions.

I would ride him back to the farm through the woods along the power lines on snowmobile trails. He memorized every turn and hill, up and down. Many times I would close my eyes to try and nap as we rode home after a 12 hour day outside, knowing he would get us there even without my help.

Money was tight, and feeding him took priority over me. As time went on we had so many incredibly fun times at weddings and other events we were hired for. Eventually we moved to other towns to continue our business.

The extreme downturn in the economy did not appear to have any end in sight, and was going to require some rethinking of our future. Facing another year in a motel and getting by on the dollar menu at McDonald's just seemed unbearable. Doing anything else was admitting defeat, a hard pill to swallow! I had been very successful before 2008, and had plenty of experience, energy, and faith that I could be successful again.

But what was I going to do now?

Although becoming a truck driver was going to a new low for me, it was the only option in late 2010 that seemed viable to get steady money coming in. I moved Big Duke to Ohio and went to work driving a big rig. The 1st 18 months was tough financially, but allowed me to board Duke and eat at the same time:)

While we may not need to ever pull a carriage again, the time we spent doing it taught me more about myself and Duke than I can explain.
In the meantime, I want you to think about your first horse love story, and tell me about it in the comments below.
If you have any kind words for Rusty, please share them below in the comments too. I know his love for Duke may have touched your heart like it touched mine, and I think he should hear our words.